In a unanimous decision, the Nuneaton and Bedworth Borough Council (NBBC) has granted planning approval for a 25MWp solar farm located northeast of Coventry, known as the Tolldish Hall Solar Farm. This significant development, submitted by renewable technology operator Innova Renewables, marks a positive step towards achieving renewable energy goals in the region.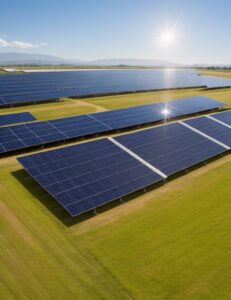 Covering a sprawling 34-hectare expanse of land, the Tolldish Hall Solar Farm will initially continue to serve as grazing grounds, according to Innova. With the capacity to generate an "initial" 25MWp of solar power, there is ample room for future expansion, although specifics have yet to be confirmed.
Ryan Adams, the Managing Director of Development at Innova and a local resident of the site, expressed his enthusiasm, stating, "As a local resident of the site, I am particularly excited to have secured planning permission for this solar farm, which will help get Coventry, Nuneaton, and the surrounding area closer to achieving Net Zero."
He further emphasized the importance of early community engagement and rigorous site selection by Innova's planning and business development teams in securing the unanimous council approval. Adams stressed the urgency of addressing climate change, especially in the wake of the recent UN statement declaring it the hottest global summer on record. The Tolldish Hall Solar Farm is expected to commence renewable energy generation in 2024.
Innova expressed its gratitude to its consultant team and the Council for facilitating this timely decision.
Councillor Richard Smith, Cabinet Member for Planning and Regulation at NBBC, also lauded the Tolldish Hall solar farm's positive impact, stating, "I was genuinely thrilled to lend my support and voice to the Tolldish Hall Solar Farm project when it recently underwent scrutiny by the planning committee. This endeavor promises a multitude of benefits for Bulkington and the neighboring region."
Smith emphasized that the facility would produce sufficient clean energy to power more than 7,000 local homes. Additionally, the project includes a well-thought-out ecology plan, which will involve the planting of new native hedgerows, hedgerow trees, and native woodland areas. The existing pastureland on the site will also be enhanced with species-rich grasslands and wildflower meadows. All these efforts are aligned with the sustainability goals for the historic Tolldish Hall Farm and will support its viability over the 40-year lifespan of the solar facility.